My 5 this Friday is just my opinion.... but I believe that there are just some things that once you become an adult, you should have to give up wearing!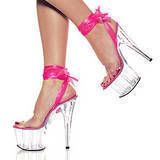 1.)
Hooker Shoes
. Unless you're dancing around a pole, please leave these shoes in the closet or better yet, get rid of them!
2.)Extremely Low Cut Jeans with a G-String sticking out. Seriously? We don't need to see part of your underwear! It just makes your butt look even bigger!

3.) Plastic accessories. I'm not talking about the cute ones that are made for adults. I'm talking about the neon Hello Kitty barrette that you stole from your 5 year old. Give it back!

4.) Sheer Tops With nothing underneath. These are horrible! No one, but your spouse, wants to see your tatas or your red lace bra for that matter!

5.) Mini Skirts. It's not flattering when you bend over and your whole butt hangs out anymore, sorry.