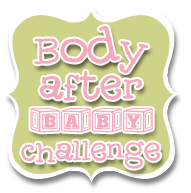 As you all know I recently gave birth to my 3rd precious baby boy just over 3 months ago. And of course you all also know how I gained a good deal of weight and I'm determined to lose it! Well, needless to say.... I haven't been doing so good. But I'm getting better! Really!
Yesterday I took a 30 minute walk with Bear strapped to me! Though I did come home and make a box of brownie. But have no fear! There aren't any left for me to sabotage myself with! :) So, tonight, I'm snaking on
carrots
as I type! See! I'm getting better! And, no I didn't eat ALL of the brownies... just a lot of them!
Anyway... I found this adorable little blog,
Mama Notes
, written by Samantha who I think sounds a lot like me. So when I read about her
Body After Baby challenge
I just had to join!! She's currently getting ready to start an 8 week challenge... Fit by Labor Day! Woo
Hoo
!! Just in time for my cousins wedding!
Opps
! Did I let that slip! OH well, we all have to have some type of motivation!
So here it goes.... well, starting Monday! I'm going to start walking, eating better and lose this weight!! Want to join us? (BTW- it doesn't matter when you had that baby..... even if he's starting school this year, that's
ok
!) Check out the
Body After Baby Challenge Here
!! And when you visit her blog, be sure to also check out all the great articles she's written previously about
dropping
the pounds (they can be found by clicking on the label 'Body After Baby')!